Lincoln County Frosty Farm Tour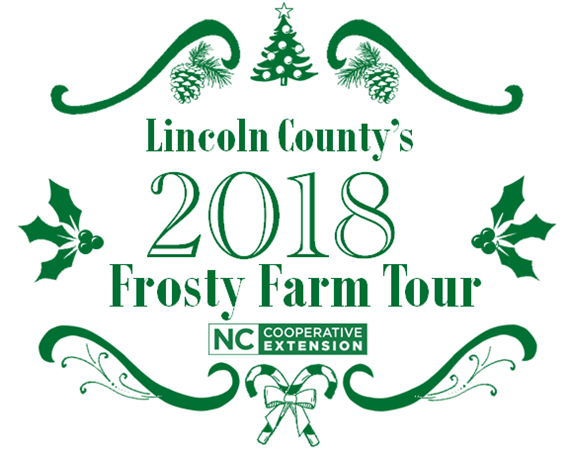 If you are looking for an unusual and exciting holiday treat this year, sign-up for Lincoln County Cooperative Extension's Frosty Farm Tour; December 8, 2018. The day will include behind-the-scenes farm tours, treats, a special holiday meal in a beautiful country setting, lots of gift ideas, and just an all-around holly jolly good time.
After leaving the parking lot of East Lincoln Middle School, the first stop on this luxury bus tour will be on "Christmas Tree Lane" (a real street name) in Vale, NC, where great holiday traditions, music, and farming all come together in a beautiful country setting. Hear the farmer (Henry Helms) tell his fascinating story of 67 years of growing gorgeous Christmas trees on the farm for Lincoln County and beyond, and just what it takes to keep fresh, beautifully shaped trees ready for holly jolly families to cut and take home year after year! You'll experience the fresh wreath and kissing ball workshop, sip complimentary hot chocolate and eat Holiday Cookies, walk among the living trees, and enjoy the music and beautiful setting of this special place, and more.
Next, a visit to Woodmill Winery will include a catered traditional holiday meal for lunch, complimentary wine tasting (including Christmas wines), a great tour of the processing and production facility, and a presentation of the amazing story of the development and growth of this local winery and its global reach. All of this will take place in the setting of a lovely vineyard and beautifully decorated indoor venue and vineyard shop full of gift ideas.
Next, the bus will head to Good Karma Ranch Alpacas, where you will get to know these extra special animals up-close and personal on your behind-the-scenes visit with this interesting farming family. Although alpacas are way too small, cute, and cuddly looking to pull Santa's sleigh; their beautiful "hair" makes the softest, clothing (not "scratchy") and holiday gifts you can imagine. They have a great disposition as well, and so they are just as friendly as they look (the Alpacas that is… and the family too for that matter).
So, we're making a list, and we're checking it twice. And so far YOU are not on it. So call 704-736-8461 or go to our web page at www. lincoln.ces.ncsu.edu for info, and instructions on how to sign-up before the seats fill-up. The tour will cost $30.00 per person, including the bus ride and the holiday lunch.
Details: Frosty Farm Tour flyer