The Gardener's Dirt October 2013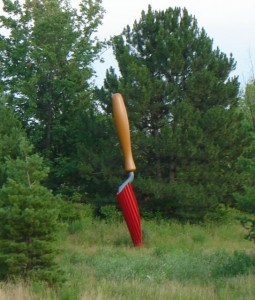 Information you can really dig into
This newsletter offers timely information for your outdoor living spaces. Addressing the most common questions ranging from container gardening, tree pruning, wildlife management, to fire ant control, insect identification and lawn establishment.
Click here for a printable version of this newsletter.
Shawn Banks
Extension Agent
Agriculture—Consumer Horticulture
___________________________________________________________________________________________________
FEATURE ARTICLE
Cold Frames – Season Extenders
By: Tina Stricklen
If you've ever wished you could grow fresh vegetables in winter but thought it was only for the lucky few with a fancy greenhouse, think again. Cold frames are the answer for extending the growing season or outwitting Mother Nature. Gardeners use these mini-greenhouses to create a microclimate during an otherwise dormant period in the garden. Cold frames protect plants from weather extremes thus reducing plant stress.
These incredible structures can be made out of basic supplies in whatever size you desire. You can be elaborate and make them out of untreated wood stock or weatherproof natural woods such as cedar. If you are on a budget, try using cinder blocks (holes turned down) or even hay bales to form up the frame. Depending on the available space, you can build whatever size you like. The key here is to find the correct size cover for the frame. Known as Dutch lights, the cover can be anything from old, refurbished windows or storm doors, to glass-substitute materials like polyethylene, Lucite or Lexan, or corrugated fiberglass. You may want to secure the lights with hinges, particularly if you site the cold frame in a wind-prone area.
Once you get the "magic box" assembled, be sure to face the angled side toward the south in order to take advantage of the radiant heat from the sun. Maintaining 70 degrees Fahrenheit inside the frame in spring and 60-65 degrees Fahrenheit in fall is ideal. If you don't employ an automatic venting arm, err on the side of caution and vent more than less. You will vent less in the winter months and more in the transitional periods of fall and spring. If you are unsure, place a small thermometer (inside a slotted white box) tucked into the center of the frame to give you some idea of the temperature. Water very little from October to March. Evaporation of moisture is reduced when the sun is low during the winter.
You can use the cold frame to carry your vegetables further into winter. This would include greens like lettuce, cress, spinach and endive. You can also grow leeks, garden peas, carrots, beets, and parsley, to name a few. Other uses include making what is known as a hotbed. In this case, the soil is excavated down three feet and filled with green manure then topped with shredded leaves, compost and other organic material. When the manure decomposes, it will create heat within the frame.
Another use is to sow seed for transplants in the spring garden. This process allows the gardener to start seed as much as six weeks earlier than outdoors. Before the seedlings are planted out in the vegetable garden, they can be hardened off easily by lifting the lights rather than carrying the trays in and out of your home. Transplanting is helpful with weed management because seeds that are planted in the garden sometimes germinate along with weeds.
A cold frame is a wonderful device that allows the kitchen gardener to manipulate soil and plants. I'm currently constructing one of my own, and it is thrilling to think that I can grow vegetables this winter. What's more, it is particularly exciting since the forecast is calling for a harsh season ahead. I'll bet you will be just as enthusiastic when you try one in your own garden. Eliot Coleman, an expert in year-round harvesting says, "Gardeners should dedicate a monument to the cold frame. It is the simplest, most flexible, and most successful low-tech tool for modifying the garden climate." (pg. 65)  The cold frame can unleash a winter garden bounty that is unmatched by the local grocery store in variety, quality, and price.
For greater detail in construction, management, and what to plant, please refer to these sources:
http://www.organicgardening.com/learn-and-grow/make-your-own-coldframe
http://sfc.smallfarmcentral.com/dynamic_content/uploadfiles/37/Building%20a%20Cold%20Frame.pdf
http://www.vegetablegardener.com/item/3434/build-a-simple-cold-frame
Other Sources: 
Coleman, Eliot, 1992, Chelsea Green Publishing Company, White River Junction, Vermont. Four-Season Harvest, How to Harvest Fresh Organic Vegetables from Your Home Garden All Year Long, page 65.
____________________________________________________________________________________________
FEATURE PLANT
Loquat
Eriobotrya japonica
By: Shawn Banks
Loquat is a small tree in the landscape, reaching heights of about 25 feet with a spread of 8 to 10 feet. It will grow in most any soil as long as it is well drained. The plant grows well in USDA hardiness zones 8-10.
Leaves of the loquat tree are about 6 to 9 inches long and about 3 to 4 inches wide, evergreen, slightly wavy between the veins, and glossy on top with whitish or reddish brown hairs underneath. Giving this plant some year round appeal.
Flowers are white and fragrant, appearing in late fall to early winter. The flowers are found in large groups at the tips of branches making it is easy for pollinating bees to find them. They usually don't produce fruit here in North Carolina due to our hot, humid summers, but if you are lucky enough to get fruit it will be about one inch in diameter in clusters of yellow balls or pears in the spring.
Even without the fruit, loquat makes a beautiful small tree in the landscape, with the added benefit of providing flowers for pollinators at a time when not much else is blooming.
Reference:
NCSU Plant Facts, Erobotrya japonica, https://www.ces.ncsu.edu/depts/hort/consumer/factsheets/trees-new/eriobotrya_japonica.html
Perdu University, new crop Loquat – Erobotrya japonica, http://www.hort.purdue.edu/newcrop/morton/loquat.html
Hatch, Peter, 2012, Yale University Press, New Haven and London. A Rich Spot of Earth, Thomas Jefferson's Revolutionary Garden at Monticello, page 73.
______________________________________________________________________________________________
UPCOMING EVENTS
Heritage Quilt Show
Oct 10 -12, 2013
Where:  Johnston County Agriculture Center
The Annual Heritage Quilt show is scheduled to open on Thursday, October 10 at 1:00 p.m. at the Johnston County Agricultural Center. Members of the Johnston County Extension & Community Association, Jo Co Quilters and friends will share quilts from their own personal collections, some they have made, and others that family members or friends had made, for the show.
For accommodations for persons with disabilities, contact Bryant Spivey at 919-989-5380 no later than five business days before the event.
Tri-County Plant and Seed Swap
Time:  10:00 to 2:00 pm
Location:   5804 Lunenburg Drive, Raleigh (just off Rock Service Station Road, north of NC Hwy 42 in Worthington S/D). Bring a plant and/or seeds to swap. Potted plants and seeds should include name and care instructions.
There will be break-out/informational sessions (including Q&A) on:
-Edible Gardening
-Soil Amendment
-Vermiculture (composting with worms)
-Turfgrass
-Beneficial Insects
-Creating Art in the Garden
-Landscape Design
Sessions will be led by NC Extension Master Gardener Volunteers and local experts.
Also, there will be a Hypertufa (concrete-like container) workshop – while supplies last.
Come learn about gardening, swap ideas and plants, and have fun!
Divide to Multiply!
Extension Master Gardener Volunteers will at Clayton Farm and Community Market in Clayton on Saturday, Oct. 19th  from 9am to 1pm to answer questions and help diagnose pest problems.
Tobacco Farm Life Museum -Stepping into the past, October 12th. We will have Master Gardeners there from 9am – 3pm.
The NC State Fair will be October 17 – 27, 2013 in Raleigh at the Fair Grounds.
Plant Exchange will be at Johnston Community College Arboretum, 245 College Rd, Smithfield, NC on Oct. 26th from 9am – 2pm. Connect with other gardeners, trade your extras, and share our favorites. Bring your extra plants, seeds, bulbs and tools. For more information cal 919-209-2517.
______________________________________________________________________________________________
YARD VILLAIN
Root Rot
By: Shawn Banks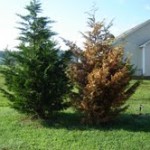 Imagine this… It's a beautiful, sunny day, and the weather has finally turned warm and stayed that way for about two or three weeks. You look outside at the gorgeous row of arborvitae or cypress lining the back yard. Then you notice that one plant right in the middle of the row is turning brown all over. The problem is starting at the tips of the branches and working its way in toward the center of the plant. This is what many people are experiencing this year. Yes, even this late in the summer or early fall.
What could possibly be going on with these plants that suddenly seem to be dying? I've been out to visit several places and sent several samples to the Plant Disease and Insect Clinic (PDIC) at NC State University. Some results have come back that there is no disease, but the roots have drowned. This happens when a plant that grows best in a well-drained soil sits in a saturated soil for weeks on end. Those are the conditions we experienced this spring.
Many of the samples are coming back positive for phytophthora root rot. There are several species of Phytophthora that naturally occur in our soils. Most years this would not be a problem. This year with all the rain we had this spring and the soils (even the normally well drained soils) staying saturated or at least wet, the water mold Phytophthora had lots of time to infect the roots of plants that would, under normal circumstances, not have been infected.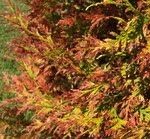 The symptoms appear similar to those of water stress. This makes sense when you consider phytophthora attacks the small roots that take up water and nutrients for the plant. If there are no small roots to take up the water, the plant will suffer from drought stress. Symptoms will be different for different types of plants. Leyland Cypress and Green Giant arborvitae seem to show symptoms of the branches dying from the tips back toward the center of the plant.
If you have screening plants that are dying in this manner and would like to be certain of the cause, it costs $20 to send a sample to the PDIC to have it tested for root rot. Pictures of the trees and the symptoms may be helpful, but a physical sample will be needed to confirm the presence or absence of the pathogen.
For more information on how to take a sample, contact your local Cooperative Extension office.
______________________________________________________________________________________________
WHAT'S IN SEASON
Garlic Planting
By: Beth Raines
Garlic is one of my favorite things to grow because it grows through the winter in our climate, and is low maintenance. You can basically plant it, mulch it, and forget it. October is garlic planting time in the Piedmont of North Carolina, although it will be many months (June) until harvest.
I usually plant both hard-neck and soft-neck varieties. I have not noticed a difference in taste between the two, but the hard-neck produces rigid, false stalks called scapes in the spring. The scapes can be used like spring onions to flavor peas, potatoes, and stir-fry dishes. The longer shelf life of the soft-neck varieties makes them worthwhile too.
When purchasing garlic to plant, you can try using grocery store garlic, but it is often treated with anti-sprouting hormones. Instead, bulbs purchased at farmers' markets or local nurseries are a better bet. If you buy seed garlic this year from a good source, you can save a couple of bulbs for next year to replant. With the long-term storage capacity of garlic, you may never need to buy garlic in the grocery store again.
All garlic needs full sun and loose, well-drained soil. It helps to improve your soil to a depth of 6-12". Before planting, crack the garlic bulb, and select only the biggest cloves to plant. Try not to break the clove skin. Pre-soak cloves (if desired) in one gallon of water with one tablespoon of fish emulsion, and one tablespoon of baking soda. Soak up to 18 hours. Strain and dunk the cloves in rubbing alcohol for one minute just before planting. Plant each clove 3" deep. Cover with soil and a thin layer of grass clippings. Water well for the first 2 weeks, at least every 3 days. All plantings should sprout within three weeks. Any bulbs that don't sprout can be replaced.
When shoots are 3-6" out of the ground (November), mulch with 4-6" of leaf mulch. Then you just wait and watch. From December to May, you need to make sure the garlic receives 1-2" of water each week. Rainfall is usually sufficient. I have rarely watered my garlic during this time. You can mulch again with more leaves in mid-March.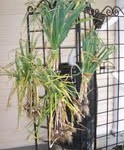 Stop all watering on June 1st. Choose a dry day in mid-late June to harvest. After carefully digging up your bulbs, lightly shake them to remove only big clumps of dirt. Tie into bundles of about 10, and hang them in a cool place to cure for 3-4 weeks. Finding a cool place in June can sometimes be a challenge. The curing bulbs are fragrant for a few days, but hanging them in the house has worked best for me. After curing, cut all but about 4" off each stalk. Gently remove dirt, and just one outer layer of skin on each bulb. Most garlic will last for several months, if properly cured.
_____________________________________________________________________________________________
OCTOBER GARDEN TASKS
Fall is for planting! Autumn is an ideal time to plant or transplant deciduous trees/shrubs and perennials. Fall is also a great time to till the soil and add organic material and lime. The bed will have plenty of time to "mellow" before next spring. Turning over the soil also exposes harmful insects and grubs to predators.
GENERAL UPKEEP
Collect soil samples for testing. Test your lawn, flowerbeds & vegetable garden. Testing should be done every 2-3 years. The kits and analysis are FREE. Strong healthy plants start with proper soil pH and fertility.
Throw away any diseased plant material. Do not put it in a compost pile. Leaving infected plant material on the plants or on the ground provides a source of inoculum for next years infection.
LAWN CARE

Pamper newly seeded fescue lawns. Little grass plants have very small, shallow roots. Keep them watered. Don't let falling leaves smother them. Use a leaf blower on low power or rake very gently so you don't uproot the tender young plants.
If desired, Bermuda lawns may be overseeded with annual rye at a rate of 5 lbs/1000 sq ft.
TREES, SHRUBS & ORNAMENTALS

Improve your clay soil. Shrubs and perennials can drown and suffocate in sticky clay soils. Loosening the soil and adding well-rotted compost, in a ratio of one part compost to two parts soil, allows plants to grow much better. Mix it well with the soil, making a bed 8-12″ deep.
Use shredded leaves as mulch. Fallen leaves contain lots of nutrients, but they decompose slowly. Help the process along by grinding up your leaves rather than sending them to the dump. Don't have a shredder? Rake the leaves into rows and run over them with a mower, preferably one with a bagger attachment.
Plan for planting. Buying on impulse can be costly and labor-intensive in the future. Before hitting the stores, determine "What does this particular site need?"  Select plants that will do well in the available site conditions. Consider the mature size of the plant, also.
Purchase spring-flowering bulbs and store them in a cool place until chilly weather sets in and you can plant them. Daffodils , Spanish Bluebells (Hyacinthoides hispanicus), and Snowflakes (Leucojum aestivum) are bulbs to consider. By contrast, Tulips and Dutch hyacinths decline after their first season in Johnston County, and are best treated as annuals.
Compost your yard waste! As you cut back perennials in preparation for winter, think about returning that bounty to your garden in the form of compost. Compost is nature's favorite fertilizer and soil conditioner. Recycle grass clippings, leaves, and non-diseased garden refuse. E.mail me for a copy of a publication on how to create compost.
Wait to prune trees and shrubs. Pruning before dormancy may induce tender, new growth that will not have time to harden off before the first frost.
Take cuttings of begonias, coleus, geraniums and impatiens to root and grow indoors during winter.
Remove bagworms from evergreens to greatly minimize their population numbers for next year. The eggs for next years caterpillars are in the bag.
Trigger roses into dormancy by no longer deadheading spent flowers and allow rose hips to form.
Avoid cool season weeds by applying the appropriate pre-emergent herbicide to plant beds and turf areas that had cool season weeds last year.
Coddle Holiday Cactus  – Leave your holiday cactus outdoors in a spot that gets a few
hours of bright sun and no light after dark. Give it regular water and fertilizer. The combination of attentive care, bright daytime, and long, dark nights sets the stage for heavy flower bud production in early winter.
VEGETABLES & FRUITS

Plant a cover crop in your vegetable garden. Legumes, such as clover and alfalfa, will enrich the soil by fixing nitrogen. Cover crops prevent erosion and can be turned over to decompose in the soil and provide needed organic matter.
Consider planting a fruit tree. The ideal time to plant is December. We will be starting our tree fruit and nut sale in October in preparation for delivery and planting in December.
Good sanitation is important for disease and insect control. Thoroughly clean up fallen leaves and fruit. Don't forget fruit left hanging on trees.
Dig sweet potatoes  before frost.
Keep pecans picked up. Weevil larva for next year's populations will crawl out of the nuts and overwinter in the soil if the nuts are not picked up.
Build a cold frame to plant cool-weather vegetables for harvest into early winter.
If you are concerned that nematodes may be causing problems, NCDA offers a test for only $3.00 to check for nematodes. The forms, boxes and bags are available at the Cooperative Extension office.
HOUSEPLANTS
Store tender tubers – such as dahlia, caladium, gladiolus, geranium, and tuberous begonia – which may not overwinter in the garden. Lift roots, tubers, or corms about the time of our first killing frost, just after their foliage dries. Dig deep enough so that the roots will not be snapped apart when lifted from the soil. Leave soil around dahlia tubers, canna, and caladium roots.
Store tubers in a dry, cool, frost-free place such as a basement. Do not store on back porch or in garage; these plants cannot withstand freezing. Also, store them where rodents will not eat them.
Geraniums can be overwintered in pots, or bare root in paper bags. Store in a garage or other building until soil dries and falls away from plant parts. Shake soil off roots and tubers, and cut away dried stem. Discard any plant parts that show soft spots or disease. Place tubers and roots in old sawdust or peatmoss, in a flat box or plastic bag with holes for ventilation.
Check your houseplants for insects before bringing them indoors. A few insects on plants outside can easily turn into a problem inside. Giving plants a bath with mild soap often does a good clean up job.
*** If you would like to receive this newsletter monthly via email, send an email to shawn_banks@ncsu.edu asking to be added to The Gardener's Dirt email list
_____________________________________________________________________________________________
If you have gardening questions you would like to have answered contact the Extension Master Gardener Volunteers by phone at (919) 989-5380 or by e-mail at jcemastergardener@gmail.com.
If you would like to subscribe to this monthly newsletter send an e-mail to shawn_banks@ncsu.edu and ask to be added to the electronic newsletter list.
____________________________________________________________________________________________
Was the information on this page helpful?